Club Overview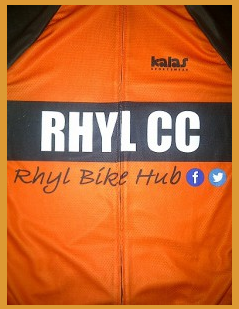 Club Overview
Whilst we have members who take part in all disciplines within cycle sport and leisure cycling, the majority of our organisational efforts concentrate on the use of road bikes.
We have events and training sessions taking place every week, even during the winter months. The sections below provide a summary of the different activities.
For details of specific events, see the "Calendar – Regional & Club Events" page.
Updates will often appear on the "News" and "Forum" as well as the Twitter and Facebook links.
—————————————————————————————————————————————–
Rhyl – Events & Training Sessions
Training/Coaching Sessions.
Thursday nights (in winter) 7.30pm – 8.30pm indoor training/club night using rollers at 'At Your Leisure' unit on Pinfold Industrial Estate, Ffordd Derwen, Rhyl LL18 2YR. FREE! April-September 6.30pm Kings Head Rhuddlan for three(or even four!) laps of the Tremerchion circuit.
All year – U8 to U18 Youth Coaching, Sundays 9.30am
1 hour, £2 per rider. Free bikes and helmets for use. There is a parental consent form attached at the bottom of the page, which needs to be filled in prior to the first session and handed to the coach. Frequent two hour rides are linked to these sessions.
Coaches currently active at these sessions are Dave Henley, Jon Harland, Colin Webb, Elaine Liptrot and Dan Hirst. If you are interested in becoming a coach please come and see us at the track and let us know your interest, we may be able to get funding for your course providing you are a member and get involved.
Time Trials
April – September, Tuesday 6:45pm. Rhyl/Melyd League Time Trials
Time Trials based mostly at Denbigh, with a few at Rhuallt and St. Asaph.
Distances range from 1.4 Miles for the Hill-Climb all the way up to 37 Miles. The Hill-Climb at Rhuallt, and 5 & 9 Mile events at Denbigh are ideal for newcomers.
The minimum age for riding Time Trials is 12 years old, and all riders aged 12-17 need to provide a signed "CTT Parental Consent Form" at their first event of the season. The form is available on the 'Time Trials' page.
Sunday and other rides on public roads
These are organised every week on the club's Facebook page. Have a look on the 'Forum' page for the links. The usual meeting point for the Sunday rides is The Kings Head car park, Rhuddlan, starting at 8.45am. All welcome.
Additional Events
We also run a number of one-off events throughout the year including:
– Open Time Trials
– Events at Marsh Road circuit, Rhyl
Details of each event will appear on the website and 'Forum' links as the event approaches.