Juniors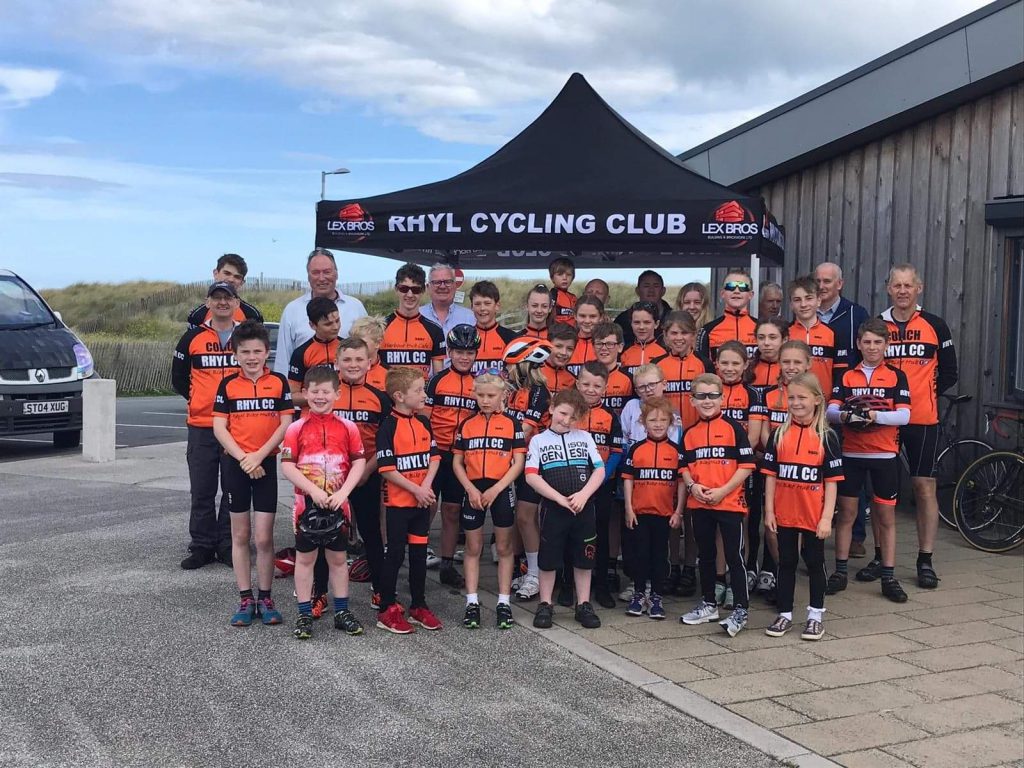 FOLLOW OUR CLUB YOUTH TEAM – see 'RESULTS'!
We really welcome new juniors to our Sunday cycling session between 9.30am – 10.30am at the 1.25 km Marsh Road circuit in Rhyl ( LL18 2AD) every week. There are always at least two separate groups for younger and older riders between the ages of 6 (possibly younger – see a coach!)and 17. A lot of fun is had as well as a bit of exercise that might bring some sweat to your face! Mums and dads are encouraged to stay and view what we do, but please keep behind the barriers whilst the session takes place.
There is a charge of £3 per junior, this includes use of a road bike (there is a large and varied stock available on site) and helmet if needed plus advice from our British Cycling qualified coaches. Rhyl Cycling Club are one of the few clubs in Wales who are Go-Ride Accredited, and the very first in the whole of Wales, which means we meet the highest standards in how the club is run for juniors. Below is the consent form required by us on the first visit. You don't have to be a member of the club to take part, but we do hope you will join if you enjoy the hour and come again!
Form_L2RiderInformationTrafficFreeConsentForm_DOC
********************************************************
As well as the Sunday sessions in Rhyl, we have occasional two hour rides from Rhyl on quiet undulating roads (meet at the track 09.15 for 12 years old or over), frequent 'team' races at the home track and elsewhere, and also weekly time trials in the Clwyd Valley in the summer. You can see details of these elsewhere on the site. Parents/adults are welcome to accompany youth riders.
********************************************************
Thursday nights in thewinter are club nights/indoor training at a different Rhyl venue (see 'Club Overview' page) and it's FREE! From the beginning of April to the end of August we offer a great training session on the Tremerchion circuit which has a bit of everything, every lap, for 12 and overs, on quiet roads. We meet 6.30pm at Waen Gate car park off junction 28 A55, or you can meet us on the circuit from 7pm. Parents/adults welcome too.
Action from the roller training! RhylCCRollerVideo
********************************************************
It's a great idea to join British Cycling, especially if you need a race licence to have a go at road racing at the Rhyl track or elsewhere. If you are joining for the first time the licence/membership is FREE! See below.
http://www.britishcycling.org.uk/membership/article/20140708-membership-static-Young-people-can-join-British-Cycling-for-less-0
Club Clothing – We aim to provide a free jersey for all youth/junior riders who join us. Every year we have a sponsored ride and other fundraising events which support this and our club youth team who attend races.
In line with good practice for social media and the junior athlete, the club now has a monitored Facebook page for our juniors and their parents plus DBS checked coaches to use. Latest news on sessions and other subjects relating to Rhyl CC youth cycling can be found here as well as help and advice. This can be accessed initially by request on this juniors 'opening' page.