News
2019 Review from Tom Burgess
Rhyl Cycling Club Youth Racing Team reviews a bumper year of participation with their award-winning coach.
Rhyl CC Youth racing team are looking back on a great year of racing in 2019 topped off with a National award for coach Jon Harland. Harland was awarded the runner up prize for Welsh Cycling's Coach of the Year 2019. The club meets at 9.30am every Sunday at Marsh Tracks Rhyl for open coaching sessions for youngsters of all ages and new riders wanting to have a go are encouraged to come along. For just £3 including bike and helmet hire kids get coaching on a traffic free closed circuit, keeping fit and learning race skills.
The open door policy is paying dividends with 2019 proving a bumper year for participation by Rhyl riders across the sport's various disciplines.
With support from sponsors Peter Large Estate Agents, Sage & Co Chartered Accountants, OTI Precision Engineering & Rhyl Bike Hub and Harbour cafe the club has been able to send girls and boys to race in U8 – U16 events throughout the country where the orange army are establishing a reputation for committed racing across the sports various disciplines.
On the road Isaac Lawrence (U16 boys), Seren Jones (U14 girls) & Cai Curtis-Roberts (U14 boys) all finished the season with top 100 positions in the British national rankings.
Highlight of the year was a wonderful day at the Welsh Criterium Championships in Aberystwyth in late May. Rhyl sent a squad of 22 riders to participate in every level from U8 to U16 girls and boys with thrilling racing around the closed streets lined with cheering crowds. There was strong racing from everyone and victories for Rhyl riders Orla Davies (U16 girls) and Alaina Jones (U8 girls). Bike racing is a tough sport and a spectacular crash in the boys U16 race saw Rhyl's Fin Jones taken to the local A&E. Luckily his injuries were confined to some nasty 'road rash' and he was back on his bike the next day for the 60 mile Ffestiniog 360 charity ride!
Rhyl riders were in action throughout the road season in the locally organised Marsh Tracks Summer Series and the North Wales Go-Ride Circuit Series both of which provided valuable race experience for the club's younger talent. Robyn Beck, Iestyn Evans, Frank Griffin, Steffan Hunt, Josie Hurst, Elliot Jones, Joel Lingard, Oliver Liptrot, Josh Page and Finley Potter all proving the great potential of the U12's and below.
Further afield Rhyl was represented with multiple riders in races at Tameside, Darley Moor, Stourport, Litchfield and Litherland, in the National Youth Circuit Series (Pembrey South Wales, London and Brands Hatch) and North West Youth Tour 3 day event where Isaac finished 15th in the last stage and Cai achieved a very impressive 9th in the overall GC. Isaac, Cai also raced at the British National Circuit Championships on a gruelling hilly course at Oliver's Mount Scarborough where they were joined by Steffan Hunt (U12 boys).
Away from the road circuit season the racing continued in the mud with Rhyl Youth rides also enjoying success in Mountain Bike and Cyclocross. Brother and sister Luke (U14 boys) & Faye Williams (U12 girls) both won their respective fields in the Welsh Mountain Bike Series. Luke also raced the British National Mountain Bike series and claimed second place in the Welsh Mountain Bike Championships. Faye currently leads the North West Cyclocross Series and came second in the Welsh National Cyclocross Championships where fellow club riders Josie Hurst (U12 girls) and Josh Page (U10 boys) also achieved podium places with 2nd and 3rd respectively. The local North Wales league provides a great introduction to Cylcocross and regularly sees a good turnout of Rhyl riders turning their orange kit brown whilst keeping race fit during the winter. 2019 has seen race victories for Evan Burgess (U16 boys), Neisha Roberts (U16 girls), Iestyn Evans (U12 Boys) and Josie Hurst (U12 girls).
2019 also saw Rhyl Youth riders take part in the Vale of Clwyd Time Trial League, the Track League at the Manchester Velodrome and the UK Hillclimb season where Evan Burgess finished the year on a high becoming Welsh National Champion on The Tumble.
Rhyl CC is run entirely by volunteers and we thank all the coaches, committee members and parents for their help this year.
Rhyl Sunday sessions run every week at Marsh Track and are open all children under 16.
RHYL CYCLING CLUB News (Historical)
Hopper wins close gallop
Ed Hopper (Maxxis 4 RT) took a tight win in the senior race that started proceedings at the Sunny Rhyl Circuit Races 2 on Sunday 2/7/17. Martin Hillman (Velo M) and George Higgins (BNECC) were second and third within two bike lengths of the winner. Highlights of the youth racing were Finley Douglas' win in the u14's ahead of James Satoor (Mid Shropshire Wheelers) and Edward Woodhead, a win each for Salt Ayre Cog Set Jarrett brothers, and Niamh Cliff taking the u8 girls. It was sunny too!
15/11/16
Next Thursday (24/11/16) we are holding our AGM at the Kings Head pub in the centre of Rhuddlan. Start is 7.30pm and all are very welcome.
8th September 2016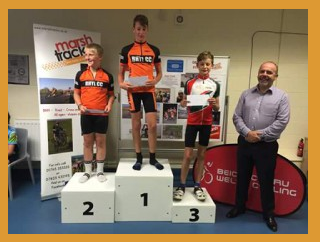 After the closing event of the 2016 Marsh Tracks series at Rhyl, Finley Douglas, Isaac Lawrence and Rhos-On-Sea CC's Will Neale receive their overall awards on the podium from Paul Rutt. Next year these youngsters will be riding at u14 (Youth B) level for the first time, exciting times!
29th May 2016
Flint veteran bike rider Alan Forrester finally achieved his main target since he took up cycling following a switch from running, gaining the British Road Race Championship (65-69 age category) on Sunday in Buckinghamshire. The Rhyl Cycling Club/Rhyl Bike Hub man hit the finish line first after a gruelling 62 mile race in sweltering heat, and had to ride conservatively due to a mechanical problem. The RNLI lifeboat manager had only two heavy gears to select of his normal 20 from the early stages.